Klaus Henle
(SCALES coordinator)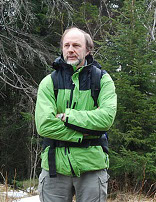 Klaus Henle, PhD in Zoology, Australian National University, Canberra, now head of the Department Conservation Biology at Helmholtz Centre for Environmental Research, Germany. His research focuses on biodiversity conservation, with particular emphasis on fragmentation and connectivity, population viability, monitoring, and science-policy interfaces. He has coordinated many national and international research projects in these research fields in Europe, Brazil, and Australia.
Josef Settele
(SCALES coordinator)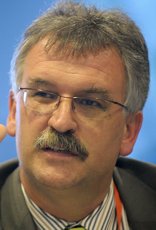 Josef Settele, born in 1961, is employed since 1993 as senior scientist at the Helmholtz Centre for Environmental Research - UFZ. He did his Masters in Agricultural Biology and his PhD in Agriculture (PhD Thesis on ecological impacts of agricultural intensification of Philippine Rice Terraces). He habilitated in 1997 at the University of Hohenheim in Landscape and Agricultural Ecology (Thesis: "Metapopulation analysis based on grid square data"). Since November 2002 he is "Privatdozent" for General Ecology at the Martin-Luther-University of Halle-Wittenberg.
From 1993 until 2001 he was Deputy Head of Department of Conservation Biology at the UFZ – Centre for Environmental Research Leipzig-Halle and since 2001 he is Deputy Head of Department of Community Ecology and Head of the Animal Ecology section at the Helmholtz-Centre for Environmental Research – UFZ.
Since 1993 he coordinated several national and international biodiversity and ecosystem related research projects (among them MacMan, ALARM, CLIMIT and LEGATO).
Josef Settele authored ca. 300 scientific publications, incl. more than 10 books and around 80 ISI-listed papers.
Simon G. Potts
(Anthropogenic and natural processes across scales)
Dr Simon G. Potts is a Principal Research Fellow in the School of Agriculture, Policy and Development at the University of Reading, UK. He leads the Biodiversity and Ecosystem, Services group which focuses its research on the relationships between environmental change, land-use, biodiversity and ecosystem services. Current projects have a strong applied focus striving to deliver high quality evidence to decision makers in order to simultaneously meet objectives for biodiversity conservation, food security and provision of ecosystem services.
Bill Kunin
(Scaling of impacts on biotic processes and biodiversity)
Bill Kunin is Professor of Ecology at the University of Leeds, in northern England. His work focusses on plant populations and communities, and their interactions with the insects (pollinators and herbivores) that use them for food. Much of Bill's work has been devoted to understanding the spatial and temporal scaling properties of populations, and the processes that may help shape them. He has been involved in a range of research and educational consortia before joining the SCALES project, including the EU FP6 ALARM project, in which he orgainised the Focal Site Network, and the Marie Curie EST Centre for Biodiversity and Conservation Research, which he led. Current projects include two other EU projects (STEP and EXPEER) and two UK Insect Pollinator Initiative projects. Withing the SCALES project, Bill leads Workpackage 2, on biotic processes, and he is particularly active in research on multi-scale biodiversity patterns (sWP 2.4), conservation strategies (sWP 2.6) and developing tools for up- and down-scaling ecological information (sWP 3.3).
Martin Zobel
(Scaling of impacts on biotic processes and biodiversity)
Martin Zobel is a Professor of Plant Ecology at the University of Tartu, Estonia. His current research focuses on patterns of plant community diversity and the rocesses underlying the pattern. He is trying to combine approaches in different scales and studies of different taxonomic groups (plants and mycorrhizal fungi). Besides understanding the fundamental nature of plant communities, his research addresses also the impact of land use on vegetation structure and on finding the best indicators of this impact. Prof. Zobel is editor of Journal of Vegetation Science and Applied Vegetation Science, and vice-president of International Association for Vegetation Science.
Yiannis G. Matsinos
(Development of scaling methods)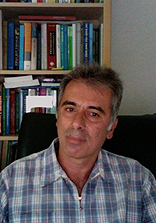 Yiannis G. Matsinos was born in 6 May 1963 in Athens, Greece. He is Associate Professor and vice Head of the Department of Environment, School of Environment at the University of the Aegean, Mytilene, Greece. His research activities include development of individual oriented models, cellular auatomata process models, ecological modelling, environmental statistics, environmental risk analysis and impacts assessment. He has 40 publications in peer-reviewed journals and has participated in 52 international conferences. He is a board member of European Ecological Federation and member of EPBRS, ESA, SIAM. He has participated in 13 research projects funded by NSF, EU, GSRT, and Greek Ministry of Education.
David Storch
(Development of scaling methods)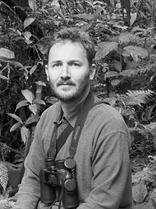 David Storch is the director of the Center for theoretical study, and associate professor at the Department of Ecology of the Faculty of science, Charles University. He is an editor of Ecology letters, editor of the book Scaling biodiversity (Cambridge UP, 2007), and author of several other books and many papers, dealing mostly with macroecology and biodiversity, namely multiscale patterns in species diversity, spatial structure of species distributions, and the interrelationships between various macroecological patterns.
Jukka Simila
(Multilevel governance and policy instruments)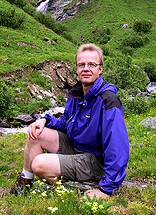 Jukka Simila, Doctors of Laws, Helsinki University, now Unit Head of Governance Studies at Finnish Environment Institute, Helsinki, Finland. He has long experience of research related to environmental regulation generally and nature conservation particularly. He has led and participated in a number of projects, which evaluate regulation from different angles. He has consulted several times national government bodies about the development of regulation. Furthermore, he has published law books and articles particularly on nature conservation.
Malgorzata Grodzinska-Jurczak
(Multilevel governance and policy instruments)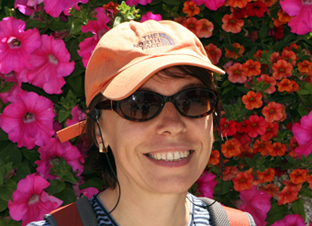 Malgorzata Grodzinska-Jurczak, Assoc. Prof., is employed a researcher and lecturer at the Institute of Environmental Sciences, Jagiellonian University, Krakow, Poland. She completed her Master in biology (Environmental impact on allograft viability), followed by Ph.D. in ecology (The effect of acid rain on the environment of the Polish Tatra Mnts.). Since her habilitation ((Environmental education towards municipal waste management; 2005) she has focused on social aspects of nature. Currently Malgorzata co-ordinates work of Nature Protection, Wildlife Management and Environmental Education Research Team. Her main research interests are: human dimension of natural resources, human-nature conflicts' resolving in protected areas, Natura 2000 implementation (communication, awareness raising), PR in waste management, environmental awareness of public. She lectures: Environmental Education, Eco-social aspects of nature protection, Policy of environmental protection, Practical aspects of environmental conservation and tutors B.Sc., M.Sc. and PhD students. Malgorzata co-ordinates national and international scientific and educational projects (EuMoN; SCALES). Malgorzata Grodzinska-Jurczak widely publishes in Polish and internationally recognized journals, sits in Editorial Boards (International Research in Geographical and Environmental Education, IEJEE-Green, Diversity) and reviews to variety of journals. She also practices as a consult to national & international companies, local governments and programs.
John D. Pantis
(Method development; testing & evaluation in case studies)
John D. Pantis is Professor in Ecology at the School of Biology of the Aristotle University and serves as Vice Rector of Aristotle University since 2010. His research focuses on Structure, Dynamics & Management of Ecosystems & Protected Areas and Landscape Ecology. He has participated in more than 20 national and 5 European research projects (in 15 as principal investigator). He has served as President of the National Marine Park of Zakynthos (2000-2005) and the European Ecological Federation (EEF) (1999-2002).
Szabolcs Lengyel
(Method development; testing & evaluation in case studies)
Szabolcs Lengyel received his PhD in Ecology, Evolution and Conservation Biology from the University of Nevada, Reno (USA) in 2001. Upon his return to Hungary, he took up a position as research biologist at Hortobagy National Park. From 2004, he was a postdoc at University of Debrecen and he has been Assistant Professor at the Department of Ecology of that university since 2006. He worked as a visiting scientist at North Carolina State University in 2007-2008. His main research interest is in conservation ecology, specifically, in how knowledge from the interplay between ecology and evolution can be applied to design and implement effective conservation measures.
Vesna Grobelnik
(Integration and SCALETOOL development)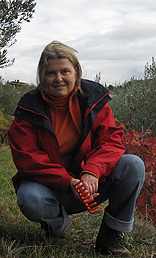 Vesna Grobelnik graduated in biology at the University of Ljubljana. Since 1998 she is employed at Centre for Cartography of Fauna and Flora where she currently holds a position as project manager. Her main expertise are GIS, cartography and database management.
Lyubomir Penev
(Science-policy interface and dissemination)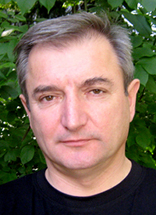 Lyubomir Penev graduated Biology at the Univiesty of Sofia and holds a Ph.D. in Ecology at the Russian Academy of Sciences, Moscow. Now he is Associate Professor of Ecology at the Bulgarian Academy of Sciences, Sofia. His main interests over the past 25 years have been the methods of biodiversity study, development of software for biodiversity research and environmental assessment, biogeography, landscape and urban ecology and entomology. He is the author of BIODIV, one of the first specialized software for biodiversity research (Exeter Software, N.Y., 1991) and one of the first computerized bibliographies, CARLIT & CARRUS (1993). He has published more than 60 papers and was co-author or (co)editor of 7 books. In 1992, he established and successfully developed Pensoft Publishers. Dr Penev particpates in several innternational research projects as expert or workpackage leader in publication and dissemination of scientific information and web development.
Sybille van den Hove
(Science-policy interface and dissemination)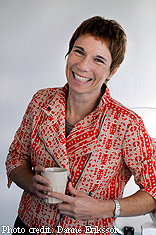 Sybille's expertise is in sustainability governance, science-policy interfaces, decision-making and policy formation under conditions of complexity, integration of natural and social sciences research, environmental research strategies and corporate environmental strategies. Today, she mainly applies her research to the areas of biodiversity policies at international and EU levels, and socioeconomic aspects of biodiversity change. She has also worked in areas such as: climate change, radioactive waste management policies, the EU chemical and pesticides policies, and sustainability strategies of corporations.
Her background is high-energy physics and ecological economics. She is Director of MEDIAN, a small research, teaching and consulting company, and Visiting Professor at the Institute for Environmental Science and Technology (ICTA) of the Autonomous University of Barcelona. She is a member of the Scientific Committee of the European Environment Agency (EEA).
Link to Median webpage: www.median-web.eu